While the West Village is a perennially hip neighborhood for all New Yorkers, with it's hip bars, exciting nightlife, and popular restaurants, it also has so many amenities to offer for the youngest city residents: kids! If you're considering West Village real estate for sale and you have children, knowing why other families love this area will help you make the decision to relocate to this vibrant neighborhood.
Reason #1: The Parks and Playgrounds
The West Village and nearby Greenwich Village are home to a variety of playgrounds and parks full of activities for younger kids. The two playgrounds in Washington Square Park are especially popular, and kids can splash in the play fountain during warm months. The Bleeker Playground has plenty of playground equipment and a bathroom that is open year-round, while the Downing Street Playground is a bit more secluded and hidden by a tall brick wall. Other hot spots include the James J Walker Park, which has basketball courts as well as playground equipment, and the Tony Dapolito Recreation Center, where families can swim in the outdoor pool and watch movies from the rooftops.
Reason #2: Easy Access to Arts and Cultural Activities
Top realtors in NYC agree with us that the West Village is an ideal neighborhood for parents who want to expose their kids to the arts and cultural activities. The Skirball Center for the Performing Arts regularly puts on family-friendly shows, The Whitney Museum of American Art features incredible exhibits and family programs, and you can see indie art house films at Film Forum. For smaller children, the Children's Museum of the Arts lets kids channel their inner creators with their 10,000 square feet of open space dedicated to creating art! With everything from play dough to vats of flubber to plenty of space for painting, the Museum is ideal for parents who want to give their kids lots of flexibility to explore and just have fun.
Reason #3: Family-Friendly Restaurants
Though most people know the West Village as a hub of high-end fare from the likes of Boucherie West Village, L'Artusi, and Via Carota, the area also has plenty of family-friendly establishments as well. Kids will love the old-school feel of the Washington Square Diner, the fun dishes like Frito Pie and Get Along Little Corn Doggies at the western-themed Cowgirl, and the fact that when they eat the Village Pancakes at The Grey Dog, they're also helping homeless dogs (the restaurant donates 5% of every order to Animal Haven).

After dinner, there's no better place for families to get something sweet than Big Gay Ice Cream with its rainbow-colored unicorn mascot. Treats are not only delicious, they also have unique names like the Mermaid, Rocky Roadhouse, and (the shop's best-seller) the Salty Pimp. Do the kids want to try something a little fancier for dessert? You can take them to Patisserie Claude for some of the city's best French pastries. Eclairs, tarts, cream puffs, and pumpkin pie are just a few of the delectable sweets you'll find at this family-owned bakery.
Reason #4: Fun Shopping
Top realtors in NYC find that their family clients flock to the Village for a variety of reasons, and the shopping options almost always make the list. Kids and parents alike will love looking at the toys, clothes, and costumes at Bombalulu's (what baby doesn't need a Prince onesie?), and families on a budget will appreciate the selection and prices at Clementine, a designer consignment boutique. Teich Toys & Books is also a popular spot with its arts and crafts, learning games, and adorable stuffed animals. Parents who want to do some shopping just for themselves also have tons of options, including Donna Karan's new store Urban Zen, the clean cosmetics and skincare store CAP Beauty, and Marc Jacobs Bleeker Street.
Reason #5: The Schools
If you want access to some of the best public schools in New York or you want to check out some high-quality private options, you can't do better than the West Village. When you buy a piece of West Village real estate for sale, you can choose from public schooling options like New Explorations into Science, Technology & Math School, which is rated the #1 best public elementary school in New York, and The Anderson School, a small school with a strong sense of community. If you'd rather go the private route, you have options ranging from the Notre Dame School to the Academy of St. Joseph to the progressive favorite City and Country School.
Reason #6: High Rankings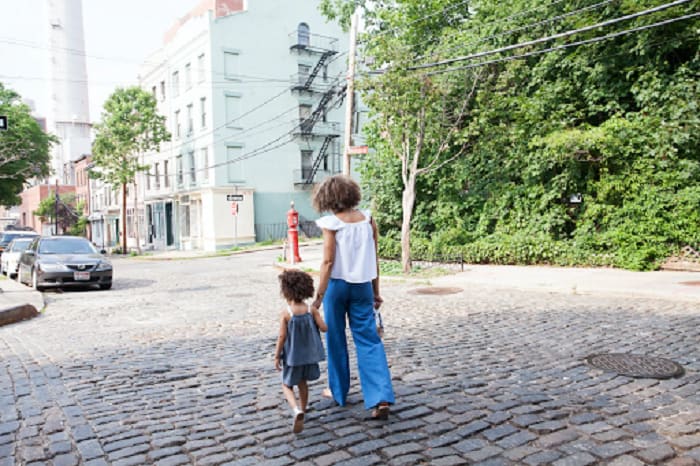 If you want to know whether a neighborhood will be a good place to raise your family, take a look at the rankings. Top NYC realtors often guide prospective West Village residents to pay attention to how the neighborhood is ranked on places like niche.com. Based on statistics and expert insights, Niche ranks the West Village as #13 for best neighborhoods for young professionals in New York City, #24 for best neighborhoods to live in New York City, and #35 when it comes to best neighborhoods to raise a family in New York City. With a population of around 35,000, the West Village ranks consistently high due to its abundance of shops, restaurants, parks, and above-average schools.

If you're considering West Village real estate for sale and want to relocate to this trendy neighborhood, you'll never have to worry about finding fun things to do with your kids. You can also feel comfortable knowing you'll have plenty of school options to choose from and that you'll be among other families who have made the Village home. Work with one of the top NYC realtors, like those on the Sukenik Glazer team, to find the perfect West Village home in which to raise your family.