There are more than plenty of elegant, fun, and trendy restaurants to choose from in the Chelsea, New York area. Even better, many of these restaurants not only serve delicious, mouthwatering cuisine, but they also have the ideal atmosphere for you and that special someone to enjoy an amazing night of fantastic dining, drinks, and exciting conversation. Some have a warm and comforting vibe, while others have a more upbeat and enchanting feel. Whatever your preference, you can discover just the right spot to meet up for your date and enjoy the sparkle the two of you have! 


1. The Ainsworth
With multiple locations across the US, the classic Ainsworth restaurant provides an elegant and luxurious feel to the dining and bar experience. Sample delicious items from their menu, such as the mac and cheeseburger, chicken BLT, the famous 24k gold wings, or an enticing selection of entree options that are sure to make it a satisfying evening! In The Ainsworth's beautiful atmosphere full of sparkling lights and colorful drinks, you'll create treasured memories with your loved one that you won't soon forget. The Ainsworth is also available to host various events, celebrations, and fun family get-togethers. So what are you waiting for? Come to Chelsea and enjoy great food with your significant other! 
2. The Breslin Burger 
Craving a good hamburger? How about taking a trip to The Breslin Burger with your partner and exploring all the exciting burgers they have to offer? You can make yourself at home in one of their polished leather booths and soak up the old-fashioned restaurant atmosphere. As you peruse the menu, you can find items like the pickle pot, the fried soft shell crab sandwich, or the dry-aged ribeye burger! You can enjoy a cold drink at the bar or exchange some intriguing dinner table conversation while you get to know your special someone a bit better. Whatever your fancy, you can discover that and more at the fantastic Breslin Burger. Go ahead and make your reservation today! 
3. Motel Morris 
The neighborhood-friendly Motel Morris, located on Seventh Avenue and Eighteenth Street, offers a fun menu with a thrilling selection of global cuisine and clever spins on American classics. Here you can enjoy delectable beverages such as local craft beer, cocktails, and fine wines. As you consider where you and your date should go for an unforgettable meal, make sure you put Motel Morris on your must list. There is beautifully made, delicious food such as the sauteed hake 29, spicy peanut butter soba noodles, and the crispy fried chicken thigh sandwich. And if you're looking for a great brunch place, Motel Morris has that as well! You can chat about future plans and dreams together over scrambled eggs and breakfast fried rice. Who said brunch had to be ordinary? With its ocean-colored aesthetic and wide-open windows to let in the sunshine, Motel Morris will find a special place in your heart in no time!  (Image Credit: Yelp)
4. El Quinto Pino
A Spanish tapas bar, El Quinto Pino is a fun and friendly place to catch up over an array of food. On the menu, you can choose from the El Dobo burger, a pork loin sandwich called the Lomo, and more. With its comforting feel, El Quinto Pino makes you and your loved ones feel right at home from the moment you walk through the door. Your heart and tummy will be happy and content after you enjoy one or several of the dishes offered here.  
5. Ovest Pizzoteca
Calling all pizza lovers! Are you craving one of America's favorite foods? Looking for something cheesy with pepperoni? Ovest Pizzoteca is just the place for you! Here you and your loved one can enjoy a savory brick oven and wood-baked pizza alongside a fantastic selection of pasta and Italian wines. The pizza is made from Michele Iuliano's renowned, beloved dough recipe, and everything is made from the freshest ingredients. With its high ceilings and brick walls, this pizzeria is a splendid place for a more casual and relaxed date. As you immerse yourself in the aromas of Ovest, try the tasty pizza, which has received rave reviews. Or, if you are planning an event, you can order catering from Ovest as well. 
6. Salinas
A vibrant and flourishing restaurant, Salinas celebrates the taste of Spain with its authentic food. Established in 2010, Salinas offers tapas and a diverse array of main dishes. This gorgeous dining experience involves various eating spaces, such as the indoor sophisticated Main Room, the outdoor Garden with its vivid blue couches and overhanging lights, and the outdoorsy Front Room with its big, sunny windows, a plethora of plants, and fireplace. Whichever room strikes your fancy, you and your special someone are sure to have a memorable experience. As you laugh, talk and dream together, enjoy a great drink and fantastic food. You can make a reservation here or order your favorite dish for delivery or takeout. Salinas is open Wednesday through Sunday from 5 p.m. to 11 p.m. and on Friday through Saturday from 5 p.m. to 12 a.m. 
7. Buddakan
Buddakan is known for its glamorous atmosphere with chandeliers, long tables, ornate woodwork, and beautiful art. With its roots in the Far East, Buddakan prides itself on celebrating flavors that are certain to delight guests of all ages. If you and your partners are lovers of dim sum, noodle soups, seafood, and more, you'll be sure to discover something that your tastebuds will love and remember for years to come. This striking restaurant makes a great place for exchanging some intimate table conversation and making cherished memories together. As you explore the many dishes on the menu, you can also take your pick from the selection of wines and cocktails. Buddakan is currently open for indoor and outdoor dining. They also have delivery and carryout. You can make a reservation for your special evening on their website. 
8. Quality Bistro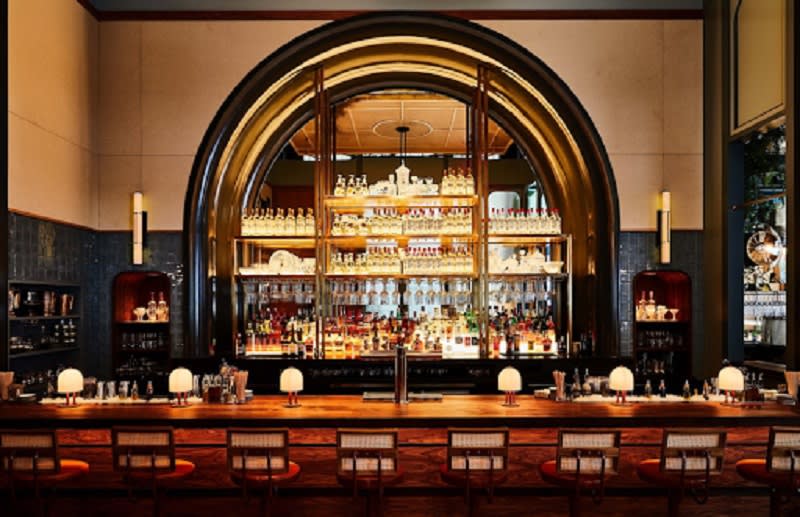 ​​​​​​​
Quality Bistro is a warm and bustling space with a focus on steak. Here you can experience the delicious east and west-coast oysters, Dry Aged Steak Sirloin, Steak Strip Frites, and much much more! While you and your significant other nestle into a cozy alcove in the Garden, you can enjoy a quiet and private space to connect and get to know each other better. As you chat about your week and plan for the future, you can take in the beautifully made food, which is as lovely as the restaurant itself! Everything here is pristine, warmly lit, and welcoming. Quality Bistro paints an elegant and gentle picture for all who desire a calming and refreshing dining experience. Looking for the perfect place to have a magical and memorable dinner with your date? Check out this list of the ten best date night restaurants in Chelsea. Looking for the perfect place to have a magical and memorable dinner with your date? Check out this list of the ten best date night restaurants in Chelsea. (Image Credit: Yelp)


9, The Cabin NYC 
The Cabin has a rustic atmosphere with a splendid variety of classic American food. There is a full-service bar, not to mention the fun and creative dining areas that provide a cabin-like feel. Against the backdrop of greenery, hedges, and blossoming flowers, you can take whimsical pictures with your sweet someone and share them later with family and friends. You will see appetizing items such as watermelon cucumber salad, bacon-wrapped dates, the Jammin' Bacon Cheeseburger, and meatballs on their menu, to name just a few. Or, if you're craving breakfast food, be sure to check out their Throwback Brunch Menu, which features yummy treats like Biggie's Biscuits and Gravy, Pac's Potatoes and Eggs, or French Toast Bel Air to make your stomach happy. As you sip on your drink and munch on your Deconstructed Apple Pie drizzled with molasses, you will notice the antler lighting hanging overhead, and the trees etched with pictures of bears. If you're looking for something outdoorsy and unique, the Cabin NYC has just the thing for you!
10. Cooper's Craft & Kitchen
Cooper's Craft & Kitchen is a cozy place to enjoy craft beer and make fun memories with your sweetheart. As you walk through the doors, you will be welcomed by the warm and friendly staff and find yourself in a wonderful oasis of great food and company. You can view the menu and discover delicious items to try, such as Wisconsin cheese curds, the classic Cooper burger, the spicy fried chicken sandwich, and more. There are many incredible drinks to choose from and a sweet array of desserts to enjoy after (or before!) your meal. If you're searching for something inviting, Cooper's Craft & Kitchen promises to be just what you're looking for! 
If you are looking to explore Chelsea real estate, contact Sukenik Glazer today. As one of the top Chelsea real estate agents, Sukenik is ready to help you find the home of your dreams.