Gramercy Park is a charming Manhattan community with vibrant nightlife opportunities. There are many hidden and unique taverns to visit throughout Gramercy and surrounding areas. Check out this shortlist of some favorite local saloons.



1. Juke Bar
Juke Bar is a vibrant, Southern-inspired watering hole offering signature cocktails, craft beers, and live jazz performances on Sundays. Given its underground coffeehouse vibe, Juke Bar is a favorite among locals. The bar is packed at times with slower nights mixed in and is perfect to meet friends for a laid-back night out. Head downstairs to enjoy drinks at the bar or sit on the outdoor patio where you can people watch as you catch up on weekly affairs with your pals. There are plenty of classic bar bites to nosh with your drinks, including pigs in a blanket, mozzarella sticks, and fries in waffle, straight, and curly varieties. Stop by from 12-4 pm for brunch, where you can savor avocado toast and a bellini. Whether you opt for brunch or a late-night gathering complete with hot toddies, you're sure to enjoy your stay at Juke Bar.
2. Lillie's Victorian Establishment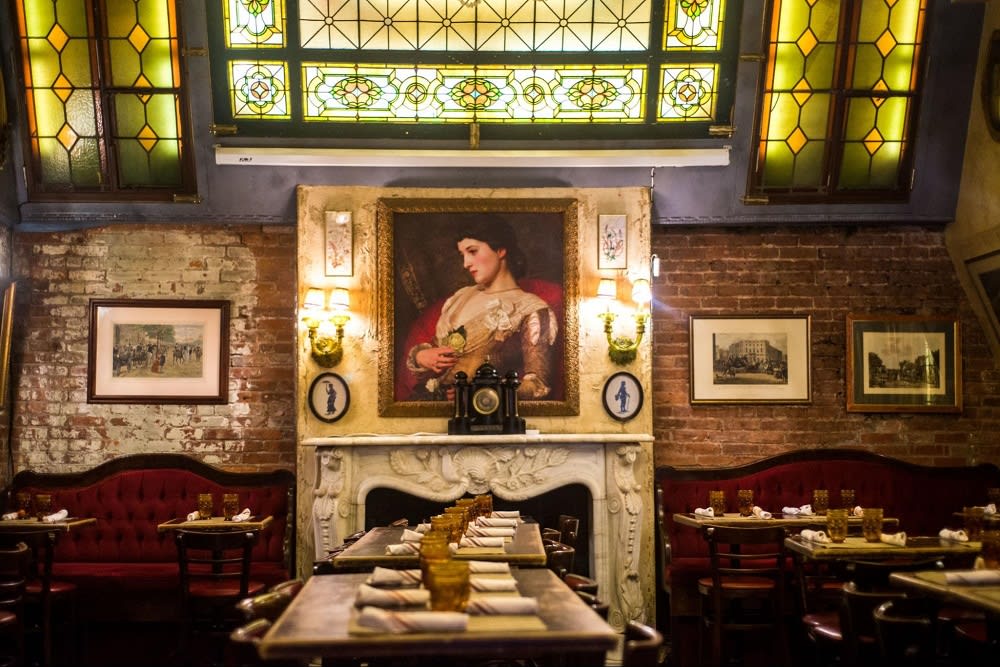 Union Square interior, Credit: Lillian's Victorian Establishment

Take a journey back to the Victorian era by paying Lillie's Victorian Establishment a visit. Lillie Langtry was a successful British actress, a renowned beauty, and a late 19th-century socialite. She is infamous for her long list of prominent suitors, including the King of England to-be, Edward VII. A controversial figure who challenged Victorian society's attitudes towards women, Lillie was years ahead of her time. This bar is an ode to her legacy. The bar features ornate wooden carvings and antiquities procured from an 1800s estate ballroom in Northern Island. Stop by to relish the authentic decor and relaxed ambiance of this Victorian "gin palace."

The eclectic menu boasts an expansive range of over 50 domestic and imported beers, along with an excellent selection of scotches, whiskeys, and wine. If you're a vodka fan, try the Writer's Block specialty drink, featuring Drake's Organic cucumber-infused vodka, lemon, agave, and a splash of seltzer. Here Comes The Sun is a zesty gin cocktail, while the draft beer list features a selection for every beer lover. Savor a juicy steak au poivre with your libations for an ultimate, indulgent night out on the town.
3. Drop Off Service
A laundromat-turned-taproom, Drop Off Service features an extensive draft beer menu and a casual, brick-lined setting. Meet friends for brews inside or sit upon the deck outside during happy hour, where $3 and $4 pints are served all day until 7 pm. Cool off on hot NYC days with a refreshing frozen margarita or frosé. Drop by for an afternoon pick-me-up, stick around to watch the game, or down an ice-cold brew or two with colleagues after work at Drop Off Service.
4. Ampersand
Creative cocktails, exceptional fares, excellent service, and dimly lit surroundings make Ampersand a must-visit tavern. Don't drink on an empty stomach: order some guacamole, shishito peppers, and buffalo cauliflower for the table. Once you have some snacks and pork tacos in your system, pick a drink from the concise beer, wine, or cocktail menu. Drafts include ales, lagers, ciders, and more, while the wine list consists of a handful of basics. Mixed drink options include anything from tangy gin cocktails to creative poblano sours, prepared with Mezcal, ancho verde, lemon, and simple syrup. A terrific selection of carefully crafted drinks and snacks keeps regulars coming back for more at Ampersand.
5. The Winslow Gin House and Eatery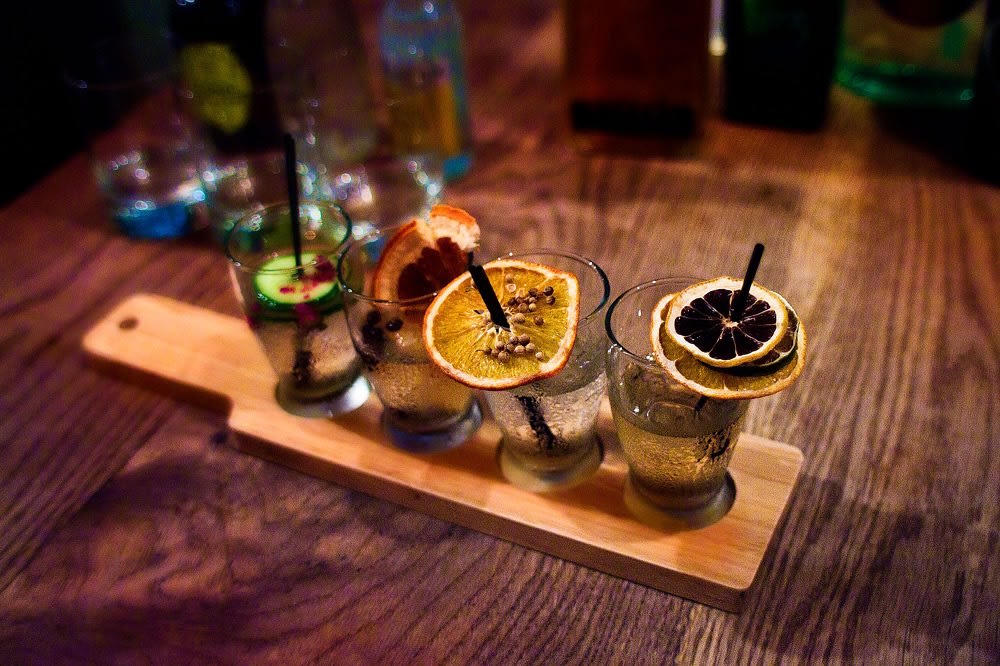 Credit: The Winslow Gin House and Eatery

All gin aficionados are welcome with open arms at The Winslow Gin House and Eatery. This British-style bar and eatery is heavily influenced by gin's considerable impact on London history. The owners realized Manhattan was in dire need of a proper gin bar, so they opened The Winslow's doors to fill the gap. Here you can find over 40 different styles and brands of hand-selected gin. Gin is a prized possession here, and the bar aims to make customers feel the same way.

In addition to a sizeable gin selection, The Winslow boasts terrific eats and a sensational cocktail program that incorporates seasonal flavors and twists to enhance and bring out the uniqueness of spirits used. The bar's "ginventory" offers a vast selection with detailed flavor descriptions for each gin. Enjoy them on the rocks, neat, or in one of the fabulous gin cocktails. Pair your gin and tonic with some Scotch eggs, spicy Korean chicken wings, or a bigger plate featured on the food menu. If you love gin, you'll equally adore The Winslow, no matter which gin or fares you choose or the time you decide to drop by.
6. Taproom No.307
Credit: Taproom No.307

At Taproom No.307, beer is not just a beverage; it's a way of life! The selection of brews is expansive, with 40 beers on tap and 60 seasonal bottled beers. Along with craft beer, they offer delectable munchies and funky cocktails. This neighborhood joint is an excellent destination for family night, date night, or game night. Everyone is welcome!

Stop by with a date, some friends, or some colleagues for team building with the self-guided craft beer experience, providing guests with a flight of five beers, a booklet, and a blind tasting kit, complete with an entree of your choice! Serious beer enthusiasts adore the ultimate craft beer experience, including everything offered in the self-guided experience, plus a beer guru walking you through the tasty selections. Call today to reserve the ultimate craft beer experience. Your beer guru will walk you through an enchanting beer journey, from history to ingredients, brewing processes to beer styles, and of course - tasting!

In addition to exceptional beer tasting opportunities, every night at this taproom features an event or special, including Bottomless Nights, live music, Trivia Tuesday, DJ Night Fridays, and more! Make Taproom No. 307 your next destination to enjoy bar fares, brews, and a memorable evening amidst friends.
7. Park Bar
Once the long and stressful workday is over, many New Yorkers head to Park Bar to take a load off with a few drinks in a fun, social atmosphere. This intimate tin-ceiling cocktail bar is friendly, hip, and a little off the beaten path. Park Bar has been serving the public post-work drinks and late-night libations since 1999 and continues to be a popular neighborhood hangout. When seeking a hidden, side-street canteen where friends and colleagues gather for six o'clock drinks to unwind and friends meet for a nightcap, look no further than Park Bar.
8. Lucky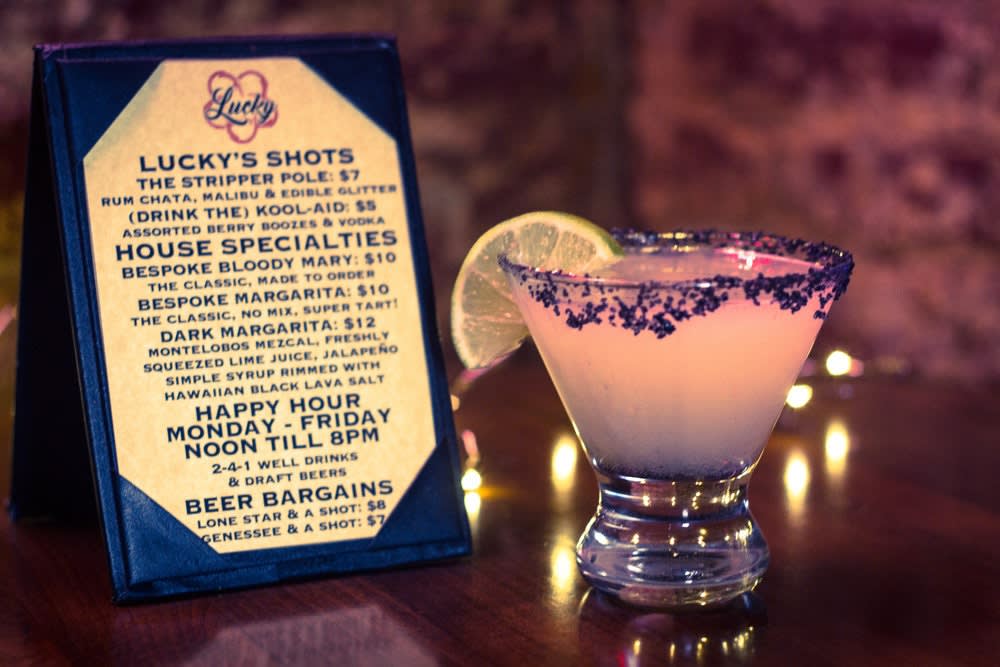 Credit: Lucky

If you seek a small, easygoing local spot ideal for meeting a few friends on the weekend or a casual weeknight, head to Lucky. This intimate neighborhood hangout offers seasonal cocktails and a charming backyard beer garden. Happy hour is Monday through Friday from 12-8 pm, so be sure to head here for an after-lunch beer or margarita. Various events are held in this local gem, including birthday parties and poetry nights. A genuinely special place where friends gather for drinks, laughs, and lasting memories, Lucky will quickly become one of your go-to's.
9. Bar Goto (LES)
Bar Goto is a contemporary izakaya offering delicious drinks and food prepared with a Japanese spin. The bar is small and gets packed, but it is entirely worth the wait to enjoy the mouthwatering Japanese dishes, drinks, and professional service. There are several sake, shochu, and Japanese whiskey options to wet your whistle. The sakura martini is an excellent option for those who seek something special, while the honeydew daiquiri is a unique choice made with rum, melon, lime, and Pastis. Grab a few snacks for the table, such as house pickles, miso wings, and savory cabbage pancakes, with sumptuous pork belly and herbivore options to choose from. Strong Japanese-inspired cocktails, tasty dishes, and an intimate yet inviting atmosphere make Bar Goto a fantastic destination for a fun evening.
10. Rose Bar
Located within Gramercy Park Hotel, the Rose Bar is a posh, exclusive hotspot loved by New York fashionistas and A-listers. On any given night, Fashion Week after-parties, private film screenings, press events, and the like are hosted here. Live music programming features world-renowned DJs and intimate music performances known as the Rose Bar Sessions. Some past artist performers include Axl Rose, Dave Navarro, Rufus Wainwright, and other internationally recognized artists. Dress to the nines, sip on a Cuddle Buddy reserve cocktail, and take in the vibrant crowd and scenery of the Rose Bar.

Are you on a quest for Gramercy real estate to call home? Contact the Sukenik Glazer Team today to find Tribeca houses, West Village condos, and property in any of the fantastic NYC neighborhoods this professional real estate team services. Darren Sukenik and Benjamin Glazer are a top-achieving broker partnership that will help you achieve your Big Apple home-owning fantasy in no time!


*Header image credit: Taproom No.307