Whether you are getting ready to sell your property or just wanting to tackle a few projects for your own enjoyment, there are many ways to improve your home improvement ROI (return on investment). According to Investopedia, ROI is a performance measure that is used to evaluate the efficiency or profitability of an investment or compare the efficiency to a number of different investments. To calculate ROI, the benefit (or return) of an investment is divided by the cost of the investment. The result is expressed as a percentage or a ratio. As housing prices continue to increase, now is the perfect time to invest in your home's infrastructure.

When it comes to home improvement ROI in your apartment, it's important to note that not all improvements are created equal. While transforming your bathroom into a spa-like space sounds idyllic in theory, the cost may not pay for itself when it comes time to sell. There are certain projects that come with a higher ROI than others, so it's worth doing some research before blindly diving in. Minor bathroom remodels or window replacements, for example, are consistently among the best projects where you can expect to find the biggest ROI. If this all sounds overwhelming, don't worry — we're here to help you make sure that your apartment upgrades are worth the investment. Read on to discover seven upgrades where you can expect the highest return on investment.


1. Manufactured Stone
Wondering what ranks number one on providing the highest ROI? According to the Remodeling 2020 Cost vs. Value report, manufactured stone comes in first place. With an ROI of 95.6 percent, this project brings more back into the homeowners' pocket than any other retrofit investment. Manufactured stone is a product that is molded and colored to look like marble, granite, or other desirable natural stones that appeal to homebuyers. However, it's often made out of concrete or a lightweight aggregate compound, which is then poured into molds. It's also easier and more cost-effective to install than natural stone — a win-win!
2. Minor Bathroom Remodel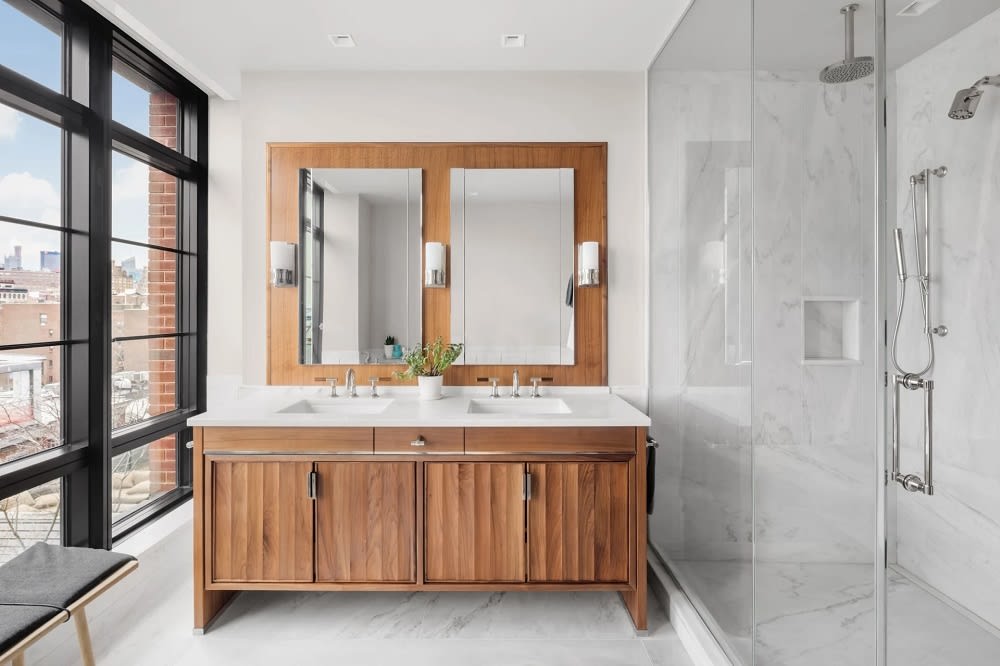 If you want to start a little smaller, consider giving your bathroom a facelift. It's important to know that the two rooms that primarily sell houses are the kitchens and bathrooms. Remodeling the bathroom, however, has been proven to have the greatest home improvement RO. This returns an average of 102 percent.

Don't worry about gutting the entire room. Instead, it's better to find ways to focus on giving your bathroom an updated look. This might include some simple upgrades, such as updating fixtures that are outdated and unappealing. This might mean replacing the showerhead with a rain shower — a feature that homebuyers will be sure to love. Another way to upgrade your bathroom is by giving it a paint job. This is an inexpensive (and perhaps the most effective way) to give your bathroom a new and fresh look.
3. Minor Kitchen Remodel
For potential buyers, the kitchen is the room that can make or break the sale — and for good reason. The kitchen serves as the center of your family's day, where a plethora of memories are made with friends and family. On average, kitchens typically earn an 81.1 percent return on investment when it comes time to sell your home. The best part is that you don't even have to demolish the entire room. Instead, there's plenty of minor kitchen remodels that can help boost home improvement ROI. This might include various factors such as replacing existing appliances with newer, better ones or perhaps refinishing the existing kitchen counters. You'll also want a simple style and color scheme. These seemingly small changes can transform your kitchen.
4. Major Kitchen Remodel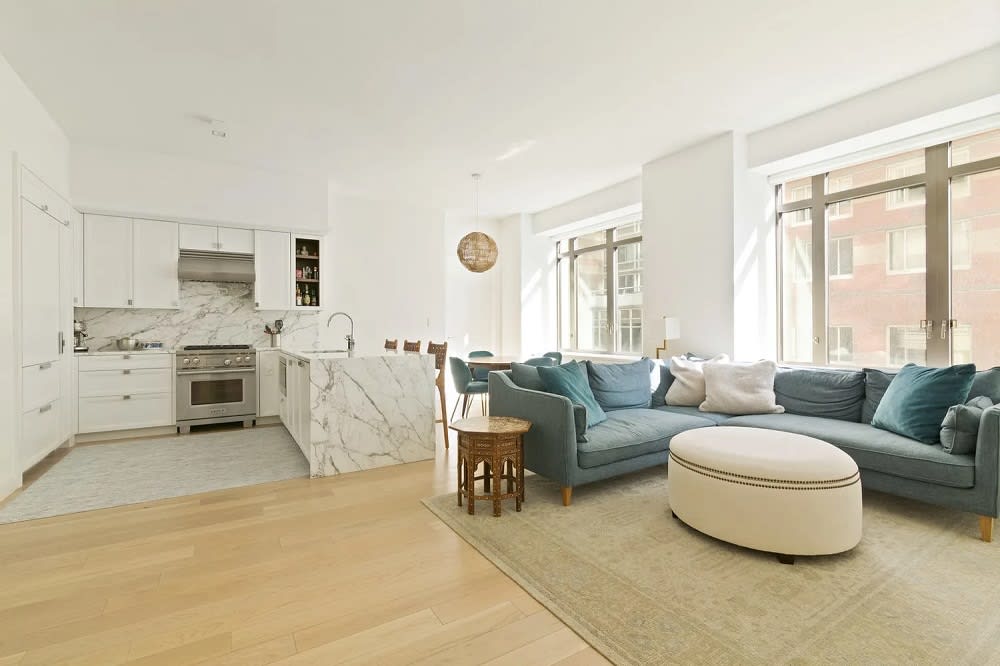 Unfortunately, sometimes a minor kitchen remodel just won't cut it. A major kitchen consists of taking everything out and redoing it. Although this can sound daunting and time-consuming, you'll be relieved to know it has an average ROI of 91 percent.

Feel ambitious? If you have experience and time, you can decide to tackle this apartment upgrade project yourself, but don't be afraid to bring in professionals if need be. If your kitchen does require an in-depth remodel, then be sure to consider how to reinvent your space with a more open concept. If at all possible, try getting rid of a wall to open things up a bit. Potential buyers want a kitchen with lots of space, whether that's for hosting or cooking.

There are also plenty of options for upgrading the flooring in your apartment home. It's important to find flooring that is durable, easy to clean, and water-resistant, especially if you're an avid cook or entertainer. Porcelain tile is a popular and aesthetically pleasing option, and thanks to its durability and stain resistance, it's great for kitchens that get a lot of foot traffic. If you plan to have lots of people over to your apartment, this may be the perfect choice for you. You can also add a trendy touch to your apartment's kitchen by incorporating engineered vinyl plank (EVP) flooring, which resembles hardwood and is waterproof.
5. Upgrading appliances
When potential buyers take a look at your apartment, they will likely be considering your appliances and whether they're up to date. Sleek and modern appliances can indicate that your home has been well cared for and maintained, and it also means that buyers won't have to replace any appliances themselves – a major plus!

So, what are some appliances that can be upgraded? The kitchen is a great place to start. Thermador offers some truly incredible high-end appliances like ovens, cooktops, refrigerators, and dishwashers, all of which are available with metallic silver glass and chrome finishes and stainless steel accents. Many of these appliances now feature smart technology and touchscreens, a major plus for tech-savvy buyers!

Your apartment likely features a washer and dryer, but to truly entice buyers, make sure that the models are upgraded. There are some fantastic laundry appliance options on the market, including smart washers and dryers that are compatible with your wifi network, Google Assistant, or Amazon Alexa. Stackable washers and dryers are also popular, particularly if you're looking to save some space in your apartment.
6. Landscaping
When it comes to putting your apartment on the market, first impressions matter. The Washington Post recommends investing up to 10 percent of your home's value into landscaping in order to make the outside look as impressive as possible; if you live in an apartment that has any type of outdoor space, it's a good idea to make sure it's well-maintained. Even if you live in an apartment with a small patio, it's a good idea to make sure that your outside area is in tip-top shape. The average ROI on this is 35 percent, so it's worth considering tackling some simple landscaping upgrades.

If you're looking for a way to elevate your patio's aesthetic, why not consider adding a water feature? This is an easy and relatively inexpensive way to transform your patio space into a peaceful space. Plus, your neighborhood birds will be sure to love this watery oasis. A water wall, sometimes known as a rain curtain, is a great backyard feature if you're short on space. This will help create a tranquil space for doing yoga in the morning, reading a book, or simply soaking up the sunshine.
7. Replacing Windows
Out with the old and in with the new. A brand new set of windows will bring an ROI of 77.5 percent. The clean lines of new windows can very easily make a home look vastly better from both the inside and outside. Even better, new windows should be significantly more energy efficient. Energy-efficient windows, also known as energy-saving windows, are designed to prevent heated or cooled air from escaping your home. Their increased insulation reduces your home's energy usage, which will also help to lower your bills. The cost for energy-efficient windows will vary by brand, window type, and frame, so it's worthwhile to do a bit of research beforehand. Needless to say, the new owners of your apartment home will most certainly appreciate saving extra money on energy bills.


If you are ready to make the move to New York, contact The Sukenik Glazer Team today. As some of the most sought-after real estate agents in New York City, this talented team is readily equipped to help you find your dream home. Whether you are looking for Tribeca luxury homes or perhaps townhomes in West Village, The Sukenik Glazer Team serves a wide range of neighborhoods. Their extensive real estate knowledge and knowledge of the city will be the perfect components to helping you find your dream home. There's never been a better time to move to the Big Apple, where art and culture, beautiful homes, and exciting opportunities abound.