Finding brunch in the West Village may pose a problem - not because you'll have trouble finding a place, but because you'll have trouble choosing from the many delicious options! This neighborhood has something for every brunch vibe, from classic dive to European and more.
One thing is certain: the West Village has set a new standard for brunch and made it more than a weekend pastime. No matter where you are in the West Village, or when the craving strikes, you're never far from your next amazing midday meal. Keep reading for some can't-miss brunch spots in this buzzing Manhattan neighborhood.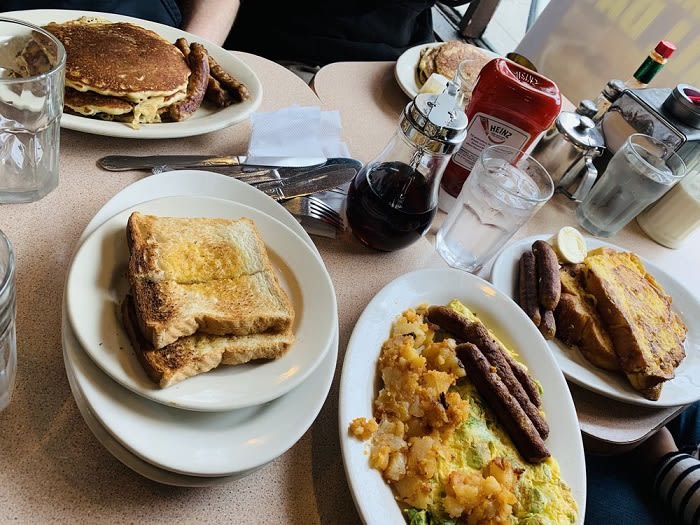 Image from La Bonbonniere courtesy of Yelp


La Bonbonniere
When we say "diner," West Villagers say "La Bonbonniere." This quintessential diner serves up all the classics you'd expect - pancakes, bacon, omelets, sausage, and of course bottomless coffee. Some would argue it's more of a breakfast spot, but we say brunch is a mindset! Plus, they're serving up breakfast dishes all day. No matter what time you go, you can get your French toast fix every day of the week.

La Bonbonniere is open daily from morning until night, but don't forget to stop by an ATM before you snag your spot at this West Village diner - La Bonbonniere takes cash only. Their motto? "Unpretentious normalcy is the whole point." We'll take some of that and a short stack, please.
Buvette
Open from "sunlight to candlelight," Buvette is a popular French bistro serving delicious food and drinks all day and late at night. Established in 2011, Buvette combines old-world charm with the casual ambiance of a neighborhood eatery, so you'll feel right at home.

Their brunch menu includes French classics such as croque monsieur and salade niçoise, plus Belgian waffles and steamed egg dishes, too. The West Village hosts their original location, though they have since opened in London, Paris, and Tokyo. Their brunch is worth crossing the ocean for, but fortunately, you don't have to when you're in the West Village!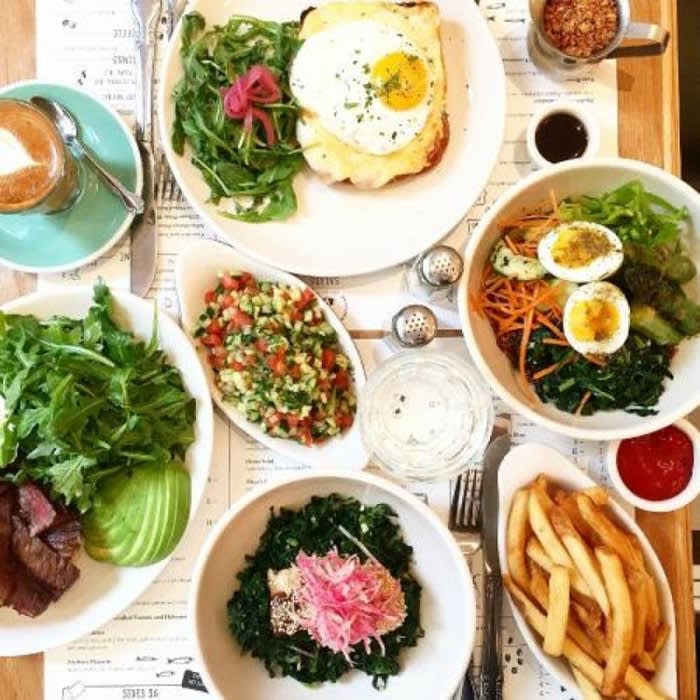 Jack's Wife Freda image courtesy of TripAdvisor
Jack's Wife Freda
Jack's Wife Freda is an all-day bistro offering American fare with a Mediterranean flair. Their first location opened in 2011 in Soho, and they now have three other cafes in New York, plus two more in Tokyo. Some of their daily breakfast dishes include shakshuka, rosewater waffles, avocado toast, and poached eggs with tomato and halloumi.

If you're leaning more toward the "-unch" end of brunch, you can choose from sandwiches, salads, and a variety of entrees like chicken kebab and vegetable curry. Don't forget to save room for dessert, too - Jack's offers classics with a twist, such as flourless chipotle chocolate cake and Malva pudding.
Tartine
Live out your Parisian daydreams at Tartine. A West Village institution, this French bakery bistro opened over 20 years ago and continues to be one of the most popular spots for both brunch and dinner. Brunch is served on the weekends from 11 a.m. to 4 p.m. and is BYOB. They don't take reservations, so we recommend going early to snag your spot!

A few featured dishes are their eggs florentine, croque-monsieur, and avocado hash - or, you can go for the simple yet classic order of croissants and coffee. No matter what you get at Tartine, you'll feel like you're in Paris enjoying an authentic meal in a friendly neighborhood atmosphere.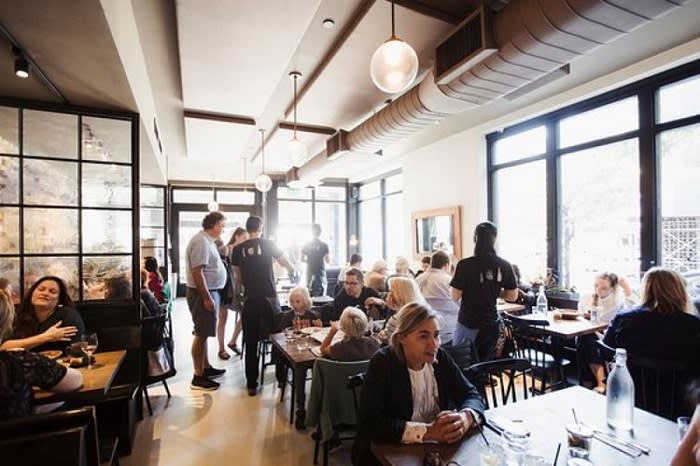 High Street on Hudson image courtesy of TripAdvisor
High Street on Hudson
High Street on Hudson is an American eatery right off the High Line in the Meatpacking District. They bake their own bread on-site, making this the perfect spot to satisfy a sandwich craving. Feeling fishy? Their current menu features a variety of seafood options, such as oysters on the half shell, octopus skewers, and fish tacos - but check before you go, as their menu often changes. Offering both coffee and wine and open all day, High Street on Hudson has everything you need to satisfy your palate from the start of brunch to its finish.
Jane
Jane has been a go-to brunch spot since it opened in 2001. This casual restaurant and bar prides itself on locally sourced, seasonally inspired dishes. Jane also takes reservations, making it a great choice for a group meetup or a cozy date. They offer shareable plates such as deviled eggs, tuna tartare tacos, and buttermilk biscuits.

Other brunch options include salmon Benedict, vanilla bean French toast, a kale and quinoa power bowl, and the A.B.C. + E sandwich, which piles bacon, egg, cheddar, and avocado on a sesame bun. Don't forget the drinks! Jane offers "The Best Bloody Mary" as well as white peach bellinis and a passion screwdriver.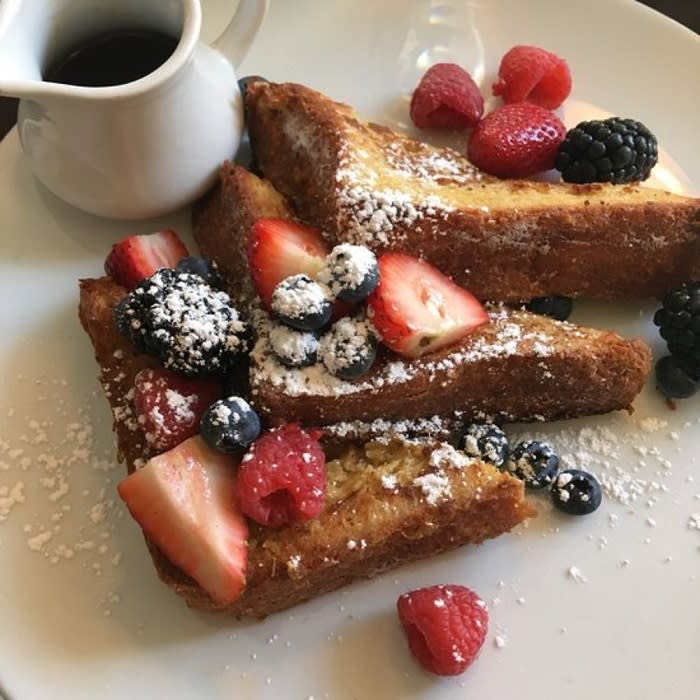 Cafe Cluny image courtesy of TripAdvisor
Cafe Cluny
This Franco-American eatery has been a bright spot for a West Village brunch since 2006. Brunch is served from 10 a.m. to 3:30 p.m. on Saturdays and Sundays, so go early to snag your seat in their airy, bright dining room or make a reservation online. You'll find everything from salads (like their country frisée salad) to seafood (to-die-for lobster rolls) and inventive fusion entrees (such as the purple sticky rice bowl). In the mood for comfort food? Cafe Cluny has you covered with staples such as macaroni and cheese and the Cluny burger.
Extra Virgin
If it's nice outside, you can't beat the view from Extra Virgin. With its outdoor patio seating on an elevated porch, this is the perfect spot for people-watching while you feast on some of the West Village's best brunch fare. Established in 2004, this cafe serves inventive Mediterranean food in a comfortable environment, with brunch available on weekends.

With such an extensive brunch menu, you'll want to try everything - so bring a friend (or several) to share with and plan to go back! Some of the highlights include basque scramble, fries with gorgonzola fondue, Mediterranean avocado toast and eggs, and banana French toast. Needless to say, Extra Virgin is extra delicious.
Bluestone Lane
Another internationally inspired restaurant in the West Village is Bluestone Lane. This Australian cafe is known for its premium-quality coffee, with a roasting facility in Brooklyn that uses beans sourced from Central and South America. With many locations across the city, Bluestone Lane offers pickup or delivery from just about anywhere, including the West Village.

In addition to coffee and fresh-pressed juices, Bluestone Lane offers healthy and seasonal dishes such as a smoked salmon protein bowl and fresh berry smoothies - plus a variety of pastries for all of your carbohydrate cravings. The best part? You can take a bag of Bluestone Lane's coffee home to enjoy whenever you need a caffeine boost, or order a coffee box to bring to your next group gathering. It's sure to be a hit with everyone there.
Oscar's Place
Oscar's Place opened in 2013 with a mix of British and Belgian cuisine. From its open kitchen, you can watch the chef prepare brunch favorites such as the classic English breakfast, eggs cocotte, burgers, waffles, salads, and more. You know you're in a British-inspired eatery when fish and chips are on the menu, and Oscar's offers a particularly tasty, perfectly battered filet. If you're seated outside, you'll have a view of St. Luke's Garden, making this brunch experience a true escape from the chaos of the city. Cheers to that!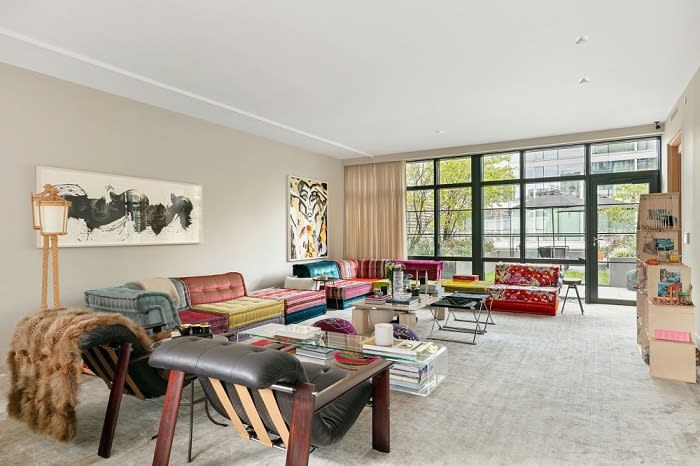 Image courtesy of Sukenik Glazer

Brunch is just one of the many delights the West Village has to offer its visitors and residents. Washington Square Park provides a respite from the hustle and bustle of city life, and jazz clubs and comedy clubs keep the nightlife interesting and upbeat. With so much to see, do, and eat, it's no wonder so many people want to call this neighborhood home.

If the West Village sounds like the perfect fit for you, the team at Sukenik Glazer can help. Whether you're looking for a West Village brownstone, loft, flat, or townhome, Darren Sukenik, and Benjamin Glazer can find your dream property. As lifelong New Yorkers, Darren and Benjamin are two of the most successful real estate agents in Tribeca and the West Village, with more than $5 billion in sales in the last five years.

Sukenik Glazer is an award-winning, top-achieving broker partnership that values the client relationship above all, which means that their team will make navigating the West Village real estate market easier and more enjoyable for you. You'll have more time to focus on the fun stuff - like where you'll have your first brunch after you move in, for example. Contact Darren at 917.566.8331 or Benjamin at 917.699.3229 to start your search for a West Village property today.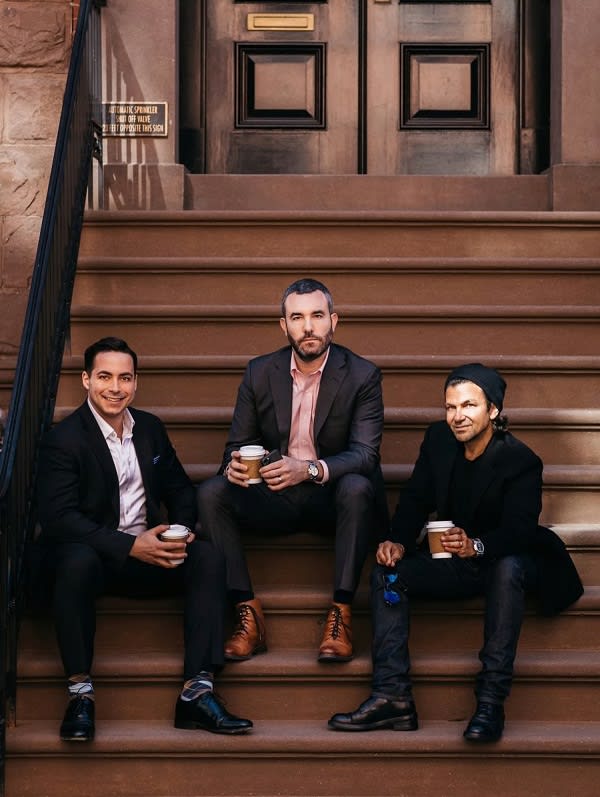 Image courtesy of Sukenik Glazer