While most Manhattan neighborhoods represent the apex of urban luxury living, a few stand out more than others.
The charm and laid-back vibe of
West Village
. The deep-rooted art and culture of
Chelsea
. The relative seclusion and peaceful environs of
Gramercy
. Indeed, there's a lot to love about New York City luxury real estate.
One of the most celebrated neighborhoods is the upscale enclave of
Tribeca
.
Nestled along the Hudson near the southern tip of Manhattan Island, Tribeca is an affluent outpost set back from the more hectic elements of the city. It's a collection of coffee shops and bars, bistros, and boutiques. It also claims some of the city's most spectacular housing.
A mix of Tribeca's old industrial past and glittering monuments celebrating its present and future, the area features an array of unique homes - from quaint and cozy lofts and studios to grand and opulent penthouse apartments. The area has it all; accommodations fit for any style, taste, or need.
Most notable is the flexibility of many of the spaces. Don't like a kitchen, living, or sleeping area, you can easily have it all remodeled, reconfigured, or completely torn out and redone.
But while most of the spaces in Tribeca's upscale condos are perfectly acceptable as is, there is one area of the home that will many times leave much to be desired - the bathroom.
Understandable, considering the premium put on space in Manhattan housing. Even in luxury communities such as Tribeca, the opportunity for a lavish bathroom (or bathrooms) is often traded for luxury elements elsewhere in the home.
The good news is that you don't have to make such a sacrifice. Though it can be a challenge to improve upon an already luxurious residence, there's no reason you can't update one of the more underappreciated rooms in the home. After all, the bathroom is where we retreat for our most personal moments and where we take the time to ensure we look our absolute best. It should be worthy of such endeavors.
With that in mind, let's explore seven luxury bathroom upgrades your Tribeca home needs:
Cool Countertops
Long a staple of the well-appointed luxury kitchen, high-end countertops are popping up in upscale bathrooms across New York. Quartz, in particular, is in high demand and not only for its stunning appearance.

As an antimicrobial, non-porous material, quartz is ideal for the high humidity of the bathroom. It's highly durable and requires far less maintenance than many of its natural stone countertops. You only need soap and water to keep it clean. Because quartz is manufactured, it's also easier to shape and work with during the construction or remodeling phase.
Daring Designs
Many homeowners focus much of their interior design time on crafting a winning kitchen to impress their friends, families, and guests. Savvy owners recognize the importance of a private, sanctuary-like retreat that is all their own, which leads us to luxury bathroom upgrade number two - the daring design of a spa-worthy bathroom.

If you've ever frequented a Four Seasons or Ritz-Carlton Hotel, chances are you know where this is heading. Certain features scream luxury, and the opulence is deafening when walking into the bathroom at one of those five-star hotels. Floating vanities, borderless glass showers, and tile accents and designs that appear to have been laid by Michaelangelo himself.

With a minimalist, cantilevered construction, floating vanities often resemble art installations more than they do a vessel for propping up your sink. But they also serve more practical purposes. First, the floating vanity will provide even the smallest bathrooms the appearance of being larger than they truly are. Second, in addition to the base offering ample storage space, the void between the vanity and the floor is ideal for out-of-the-way storage that requires quick access. It's an excellent spot for designer baskets to hold your designer towels.

Borderless glass showers also have a pragmatic purpose beyond the stunning, single-pane appearance. The door fits flush to the floor; it lacks a curb or ledge to step across, making it far safer than a traditional shower door.

Finally, you tie all of these design elements together with the ingenious use of tiles. Far more versatile than we ever give them credit for, bathroom tiles come in all shapes, sizes, and colors, allowing free reign to create a space you never want to leave. For example, you can use tiles to create patterns for "rugs" on the floor or frame mirrors and create a backsplash above your sinks.

Of course, tile is most effective as a shower or tub surround, but it pulls double duty as a visual accent should you play with the design and eschew more traditional placements or incorporate color tiles into your design.
Freestanding Centerpiece Tub
Clawfoot soaking tubs have a long-standing history of finding their way into high-end bathrooms. But the classic Victorian-era style is giving way to far bolder bathroom soakers - the oversized freestanding tub. Similar to the floating vanity, these massive water vessels feature sleek artistic lines and resemble garden sculptures or high-performance life rafts. The largest of these magnificent tubs can support two individuals, turning your Tribeca flat into a romantic, honeymoon suite getaway.
Heating Elements
If there's one complaint shared by bathroom dwellers everywhere, it's the fact the space is always cold. Regardless of when you enter, there is always a chill in the air. Unless, of course, you take steps to add a little warmth to the proceedings.


Few upgrades are more luxurious than radiant heat emanating from below your bathroom floor. While whole floor systems can get a bit pricey, they more than make up for it by keeping your feet warm. Pair that with an electric towel bar to keep your post-shower or bath wrap cozy, and you'll achieve full-body warmth on even the coldest winter day.

If you want to dial up the extravagance and temperature even further, a fireplace is an ultimate accessory for keeping you and your bathroom warm. While not always feasible, if you're planning or in the midst of a renovation, a fireplace is a worthy addition to achieving bathroom bliss. Maximize your space with a pass-through hearth on a shared wall with your master bedroom and boost the ambiance of both rooms.
Luxe Showers
If your bathtub is getting an upgrade, so should your shower. When going all out for a luxury-laden bathroom, a single-headed shower just won't cut it. Instead, install an overhead rain shower, dual showerheads, and full-body sprays along the wall with attachments for handheld sprayers. For the complete spa-like experience, add an in-shower steam head for at-home aromatherapy and soak it all in with a relaxing, shower-installed bench.
Standard Necessities
So far, we've discussed numerous high-end additions and extras, but your bathroom remains a space designed for mostly practical pursuits. Such an area calls for a few practical solutions.

First, take stock of your storage needs and capabilities. You may think you have more than you need in current vanity cabinets and drawers, but nobody has ever said no to extra storage. Look for wall spaces that can accommodate tall, slender designer cabinets. If you prefer a more open feel, trade doors for open shelving and tasteful basket storage. If using an interior wall, it's worth exploring an in-wall cabinet to help maximize your space.

For even more storage, make sure your smallest bathroom effects have a medicine cabinet to call home. These narrow, useful stowaways easily hide behind mirrors or conceal within the walls of your bathroom.

And don't neglect those most standard of features - wall plates, outlet covers, and the vent fan hood. Replacing these everyday items with a fresh stock instantly gives your bathroom a clean, classy feel. Want to do even more? Look at upgrading light bulbs, light covers (or lighting as a whole), and your tub and sink fixtures.

When aiming for a luxury bath, every little bit helps to provide a full spa-like effect.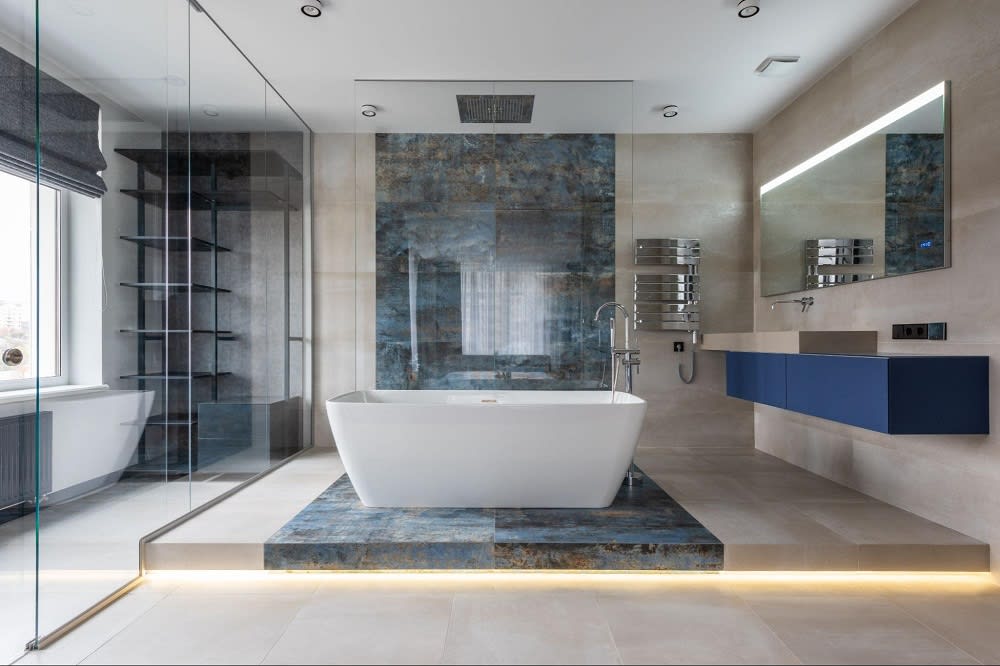 Upscale Splurges
Finally, when considering luxury bathroom upgrades in your Tribeca home, don't shy away from more extravagant features. For example, a bathroom chandelier might seem overkill, but it can also add just the right amount of class and elegance.
High-tech bathrooms are also coming into their own, with many renovations calling for pre-wired sound systems and wall-mounted TVs (or those that nestle behind mirrors). Speaking of mirrors, nothing says high-tech luxury like a smart mirror, which can display the time, date, weather, calendar, news, and social media updates. Some options even include Bluetooth and built-in speakers, so you can listen to your morning get up and go playlist while preparing for the day ahead.
Ready to explore the best of Manhattan real estate?
Contact the Sukenik Glazer Team today
to start your home buying or selling journey. From Tribeca real estate to West Village or Chelsea homes for sale, allow Darren and Benjamin and their team's years of experience and expertise to be your guide to New York City's luxury real estate market.