As the weather warms up, the grass gets a little greener, and the flowers bloom across New York City's parks, nature calls for us to get outside to take advantage of the perfect climate. Luckily, there's plenty of opportunities to do that in and around NoMad.

NoMad is a bustling and eclectic neighborhood that appeals to individuals from all walks of life. The name NoMad, which has been in use since 1999, is derived from the area's location: north of Madison Square Park.

Whether you enjoy jogging, taking the dogs on a walk through the neighborhood, or enjoying a picnic in the park, NoMad provides plenty of ways to connect with nature and enjoy the weather. We're here to tell you about some of the best ways to get outside in and around NoMad. Grab some sunscreen and water, and let's get started!
1. Spend the day at Madison Square Park
One of the first things on the list is one of the most obvious, as it's pertinent to explore the many exciting and fun opportunities NoMad's namesake, Madison Square Park, can offer. Established as a park in 1686, the area prides itself on conservationism and treasures its deep historical roots.

With different educational and celebratory events scattered throughout the year, this gorgeous place has something for everyone! Whether you want to attend the upcoming Reflection Board to discuss responses to climate change, or you are curious about the Public Art Symposium, you will no doubt find an illuminating event to pique your interest.

While here, you can bring the whole family and a basket stocked with all your favorite goodies to bask in the beautiful scenery all around. You can also enjoy the various water fountains and walking paths. Regardless of your plans for the day, there is plenty to do and see in the splendid green grasses of Madison Square!
2. Take your children to Police Officer Moira Ann Smith Playground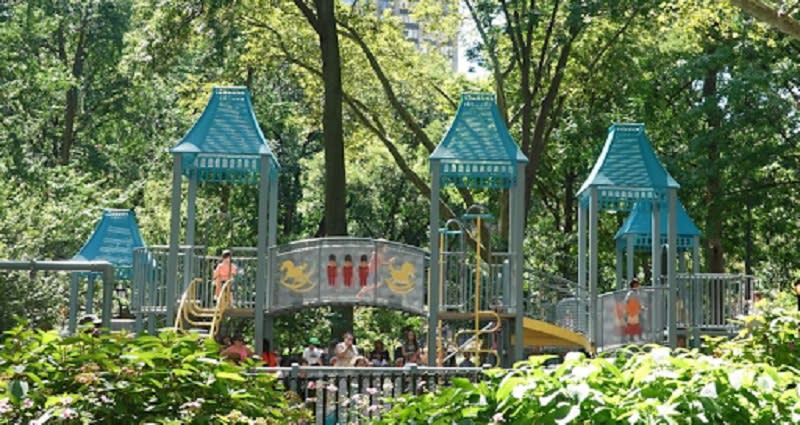 Madison Square Park is also home to a fantastic playground named Police Officer Moira Ann Smith Playground. This playground was given its name in honor of the only NYPD policewoman who lost her life on September 11, 2001. Today, the playground stands as a loving tribute to this community hero and mother.

The playground is located just inside the 25th and 26th Street entrances, and it is open between the hours of 7 AM to dusk. Open year-round, this playground serves as a safe, inviting space for children of all ages to come and let their imaginations run wild.

Children from NoMad and beyond can come here to enjoy the brightly colored playground's kid-friendly water fountains, water-spouting alphabet blocks (which are perfect for a warm summer day!), turrets, tire swings, slides, and a large water wheel.

The playground's water features and kids' concert series make it a wildly popular place for neighborhood families to gather on warm summer days. Needless to say, there's plenty of fun to be had here and lots of memories to be made.
3. Mediate at the Reflecting Pool
The Reflecting Pool, also located in Madison Square Park, provides the perfect space for some self-reflection and meditation. Made from granite, the Reflecting Pool is a shallow, circular pool often surrounded by tables and chairs. It's the perfect spot to sit and stay awhile, as nothing beats this spot on a beautiful day.

Visitors will find the Reflecting Pool centrally located between the playground, the Oval Lawn, and the Admiral Farragut Monument. While here, keep an eye out for any plants or flowers that might be growing on the surface of the water. The pool is filled during the spring and summer months, but during winter, it is drained and often used as a play space for children. You won't regret grabbing that book you've been meaning to read and heading to the Reflecting Pool for some contemplation and much-needed peace of mind.
4. Enjoy a picnic on the Oval Lawn
Nothing beats a picnic with friends or family, and the Oval Lawn provides the perfect space to do that! Located in the heart of Madison Square Park, the Oval Lawn is one of the most sought-after destinations within the park. With a luscious lawn and plenty of sunshine, it's not hard to understand why.

On a warm day, you can expect to find sun-bathers, morning mediators, picnickers, or anyone hoping to connect with nature. Whichever activity you prefer to do here, you'll find the perfect respite from the noise of city life, and what better way to enjoy much-needed relaxation than to be surrounded by the spring scenery of brightly colored tulips and blossoming trees.

The Oval Lawn is covered in a blanket of Kentucky Bluegrass and Fescue, making it one of the most popular green spaces in the city. It also serves as a public art exhibition space. There's no question why the city is known for its great cultural institutions.
5. Visit Worth Square
Are you and your friends history buffs? Do you want to take a journey back in time to experience the moments that helped form our country? If so, pay a visit to Worth Square to find just the right adventure for you! This intricate and ornate statue serves as both a memorial and burial site for the acclaimed war hero Williams Jenkins Worth.

The memorial remembers and reflects on the life of Worth, who made a significant impact on history by playing major roles in both the War of 1812, the Mexican-American War, and others. He is also widely known for the city named after him: Fort Worth, Texas. While some of William Jenkins Worths' war tactics and deeds were not the most spotless, this memorial serves as a poignant reminder of the battles the United States has endured.
6. Take your dog to Jemmy's Dog Run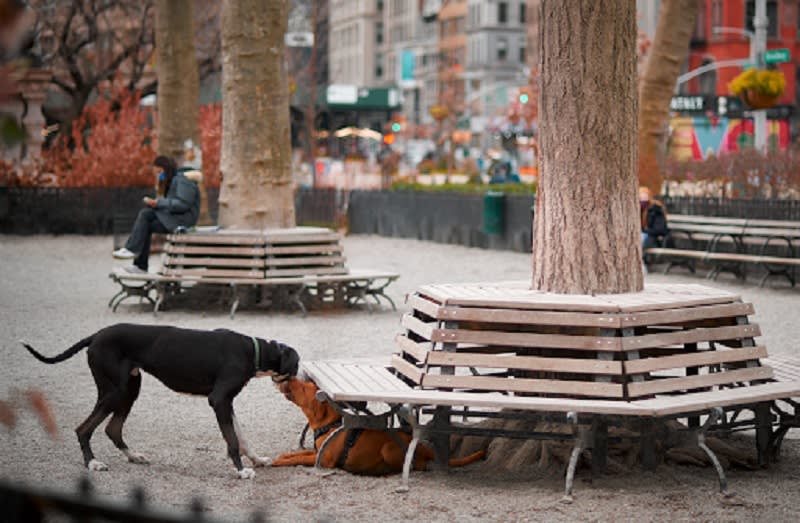 Calling all dog lovers! This is the perfect chance to make those special memories with your beloved canine! There is nothing quite like Jemmy's Dog Run for lots of fun and great exercise for both you and your furry, four-legged friend. Open the entire year, this delightful attraction was named after James Madison, who was fondly nicknamed "Jemmy" as a child. With easy-to-access pathways, plenty of trees for rest and shade, and ground that is soft on your dog's paws, you will enjoy this energizing experience as much as your dog does!
7. Explore Flatiron Public Plaza
Looking for a fun place to go for a stroll and enjoy some interesting sights? Search no further! At Flatiron Public Plaza, you can discover winding walkways and artistic sculptures that pay tribute to the lively culture of the city.

For example, how about going with your loved ones on the Weekly Free Walking Tour or taking a dip through time by visiting the Memorial to Victims of Injustice of the Holocaust? You can also enjoy the mesmerizing array of shops and colorful restaurants with absolutely delicious cuisine. With a lot of charm and plenty of things to do, the Flatiron Plaza is just the place for shoppers, foodies, and adventurers everywhere!
8. Soak up the sunshine at Bellevue South Park
Located just a few blocks away from NoMad is Bellevue South Park. Known for its unique and characteristic sculptures, this park serves as a picturesque haven for all kinds of people: children scurrying along its playgrounds and sailing their way across the monkey bars; couples hurrying along on their morning jogs; or friends meandering on the pathways while enjoying an afternoon cup of coffee together.

Whether you are looking for a spirited game of basketball or volleyball on the carefully maintained courts, or you just want a peaceful, low-key evening out with the family, you can find something truly special and memorable at Bellevue Park. This is not only a great place to take the kids or meet up with friends, but it is also a fantastic place to bring your pet to enjoy the dog park together. Put on your walking shoes, tie those laces, and get going to Bellevue South Park!
If you are ready to make the move to New York to enjoy all the outdoor opportunities, contact The Sukenik Glazer Team today. As some of the most sought-after real estate agents in New York City, this talented team is readily equipped to help you find your dream home.

Whether you are looking for Tribeca luxury homes or perhaps townhomes in West Village, The Sukenik Glazer Team serves a wide range of neighborhoods. Their extensive real estate knowledge and knowledge of the city will be the perfect components to helping you find your dream home. There's never been a better time to move to the Big Apple, where art and culture, beautiful homes, and exciting opportunities abound.