If you've always wanted to live in a hip, trendy neighborhood in New York City, look no further than Tribeca.
In a city full of neighborhoods with strong personalities and identities,
Tribeca
certainly holds its own.
Located on the Lower West Side, between Greenwich Village and the Financial District, Tribeca has been transformed from a grim industrial area to an affluent, fashionable area where lofts in Tribeca have become all the rage.
Old factories and warehouses that served their purpose decades ago have been transformed into spacious, airy homes with high ceilings and huge windows that let in plenty of light and have priceless views of the cityscape and the Hudson River. Some of these unique properties have outdoor spaces, which afford residents a chance to kick back and enjoy some fresh air in the heart of the big city.
These residential masterpieces aren't the only part of the massive transformation of Tribeca. The cobblestone streets are also lined with trendy bars, restaurants, shops, upscale boutiques, and art galleries.
Tribeca attracts its share of celebrities. In fact, it is home to Tribeca Grill, a quintessential New York eatery co-owned by Oscar-winning actor Robert De Niro.
Owners of Tribeca lofts enjoy living close to Washington Market Park and Hudson River Park, which are great for the families that choose to live there. Another draw is the annual Tribeca Film Festival.
The Name
First of all, Tribeca stands for
"Triangle Below Canal."
It is bordered by Canal Street on the north, Broadway on the east, Vesey Street on the south, and the Hudson River on the west.
The transformation from an area that produced textiles and dry goods began in the 1970s when artists and photographers began converting abandoned industrial spaces to studios. The conversion of the neighborhood continued with the further transformation of these old buildings into lofts in Tribeca.
Modern-day Tribeca combines the best of loft living with trendy businesses and attractions that contribute to the special vibe of the community.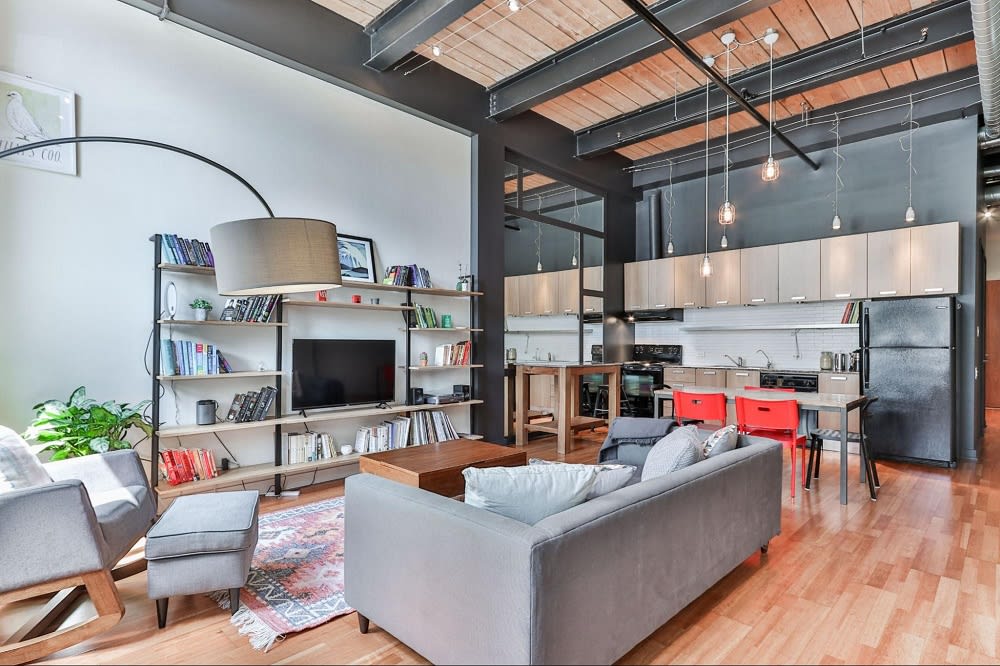 Types of Real Estate
Tribeca has become well-known for enormous lofts, many of which take up entire floors of buildings and go for millions of dollars. Due to its popularity and the price of lofts, it is the most expensive neighborhood in New York City.
After a downturn during the pandemic, the value of homes in
Tribeca
has come roaring back. According to Zillow, the median price of Tribeca real estate is $3,207,271, an increase of 1.1% in the past year.
By comparison, Zillow estimates the average value of homes in all of Manhattan at $728,404, a jump of 5.1% over the past year.
Many Tribeca lofts are listed for well over the median price.
The one attraction of buying lofts in Tribeca is knowing that you are purchasing a genuine loft. Many of these living spaces are in old brick and stone buildings with ornate facades that retain their industrial feel and can transport you back to a hardier time in the city's history.
Lofts have been built in other parts of the city, with the same concept of high ceilings and large windows, but there's nothing quite like buying one in Tribeca.
Other Tribeca real estate includes fancy condo towers and brick townhomes, but the mainstay remains Tribeca lofts.
As you might expect, lofts come in various sizes and with different amenities. Some are in buildings that are more desirable than others, such as ones that overlook the Hudson River.
But they all share the common theme of large spaces, high ceilings, and floor-to-ceiling windows that bring in lots of light.
Some of the more luxurious penthouse lofts include rooftop decks, a true luxury where residents can get away from it all.
There are various configurations of bedrooms and bathrooms, and square footage can vary.
And oh, those prices. Some lofts can be found in the range of high $1 million to mid-$2 million, but many lofts soar in price into the $10 million to $20 million range.
One fantastic penthouse property with four bedrooms, four-and-a-half bathrooms, and a rooftop terrace, goes for an eye-popping $27.5 million.
Hire a Knowledgeable Agent
In order to get into one of these special Tribeca lofts, you need to work with a special Tribeca real estate agent.
This purchase will likely be the largest you'll ever make, so you definitely want to hire a great agent who has years of experience in helping clients land the property of their dreams in Tribeca. Local knowledge is invaluable when working with an agent, and the best ones know details about properties on every street in Tribeca.
Your search for an
experienced agent
should be thorough. Research them online, read testimonials and, most importantly, try to get referrals from people you know who have purchased lofts in Tribeca. When you have a handful of solid candidates, interview each one and ask them for the specifics of their recent successes in getting clients into these lovely residences.
When you've discovered an agent you feel is trustworthy, has great interpersonal communications skills, and will have your best interests at the forefront, strike a deal and get looking for condos for sale in Tribeca.
Line up Financing
Another crucial early step is to line up financing. Set a budget so you know what size loft you can afford. Shop around for rates and terms in order to get the best deal, which will help you afford a bigger loft.
Get preapproved by a lender so sellers know you are serious about buying their property.
If you are looking to buy or sell lofts in Tribeca in 2022, let The
Sukenik Glazer Team
provide outstanding client services.